Non avere la televisione non è un grosso problema, anzi, lo trovo alla lunga un gran vantaggio per tutto il tempo che si guadagna. Abbiamo smesso di averla quando, se non ricordo male alla fine del 2009, la Lombardia è passata su digitale terrestre. Senza antenna parabolica e decoder, ho colto la palla al balzo per soddisfare il mio desiderio innato di snobismo e abbiamo rinunciato completamente alla tv. Qualche tempo fa un amico mi ha regalato una televisione al plasma da 42″ (lui è passato a un 55″ 3D) che usiamo felicemente per vederci film, documentari e serial tv. A proposito, consiglio vivamente Sherlock (quello della BCC), Dexter e Breaking Bad.
Tutto questo ha funzionato bene per più di 3 anni, i figli non hanno praticamente mai protestato, soprattutto dopo che ho spiegato loro che potevano vedere quello che volevano il giorno dopo su Youtube e senza pubblicità (al tempo a loro interessavano le Iene e Zelig).
Ma adesso… già, adesso ci sono le Olimpiadi. Ieri sera, incredibilmente anche Alessandro, il figlio meno sportivo e più artista, ha manifestato il desiderio di vedere la Pellegrini in diretta.
Beh, nessun problema ho pensato, ci sarà modo di trovare un sito che manda in streaming le Olimpiadi. Detto, fatto, cercato e trovato: c'è!
Se avete provato a visitare quel link molto probabilmente vi sarà apparsa questa immagine: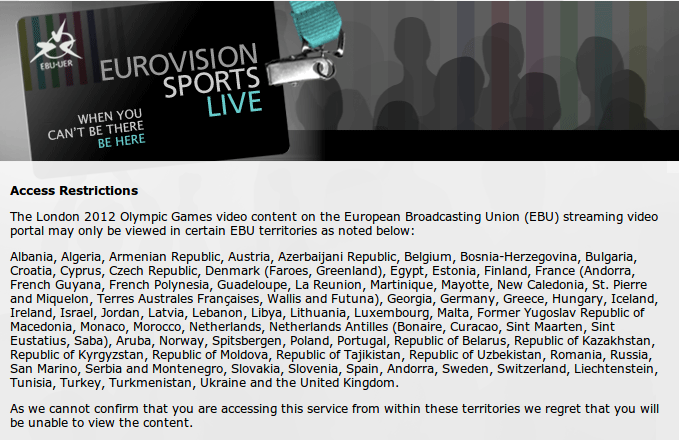 Riporto l'elenco testuale dei paesi:
Albania, Algeria, Armenian Republic, Austria, Azerbaijani Republic, Belgium, Bosnia-Herzegovina, Bulgaria, Croatia, Cyprus, Czech Republic, Denmark (Faroes, Greenland), Egypt, Estonia, Finland, France (Andorra, French Guyana, French Polynesia, Guadeloupe, La Reunion, Martinique, Mayotte, New Caledonia, St. Pierre and Miquelon, Terres Australes Françaises, Wallis and Futuna), Georgia,Germany, Greece, Hungary, Iceland, Ireland, Israel, Jordan, Latvia, Lebanon, Libya, Lithuania, Luxembourg, Malta, Former Yugoslav Republic of Macedonia, Monaco, Morocco, Netherlands, Netherlands Antilles (Bonaire, Curacao, Saint Maarten, Sint Eustatius, Saba), Aruba, Norway, Spitsbergen, Poland, Portugal, Republic of Belarus, Republic of Kazakhstan, Republic of Kyrgyzstan, Republic of Moldova, Republic of Tajikistan, Republic of Uzbekistan, Romania, Russia, San Marino, Serbia and Montenegro, Slovakia, Slovenia, Spain, Andorra, Sweden, Switzerland, Liechtenstein, Tunisia, Turkey, Turkmenistan, Ukraine and the United Kingdom.
Siccome la lista di paesi è lunghetta, mi sono preso la briga di preparare una mappa che la rappresenti: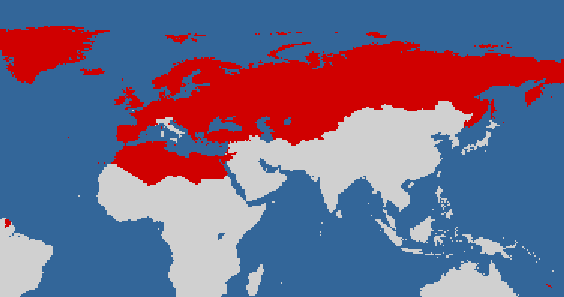 Mi pare che l'immagine parli da sola. Nel caso non sia così, provo a descriverla: tutto ciò che si possa anche lontanamente chiamare Europa, possedimenti e colonie compresi, anche la Russia e i paesi africani vicini, tranne l'Italia.
Per fortuna esistono mezzi per far credere al mondo che il tuo computer si trovi altrove,  per cui alla fine abbiamo visto la Pellegrini, lo sciabolatore Occhiuzzi, un po' di pallavolo e altri sport vari.
Ma qualcuno sa dirmi perché Eurovisionsports si vede dappertutto in Europa, ma in Italia no? Cosa c'è in Italia, e solo in Italia, di diverso?